the artist
"I want people to use my sculpture as an excuse to mentally shift to another level of consciousness, above the daily hubbub, even for a moment, and to reconnect with themselves." – Brian Russell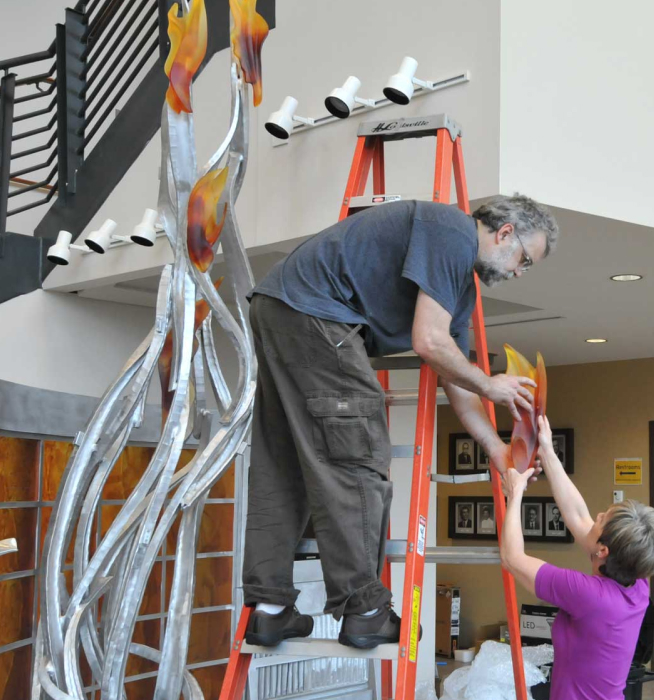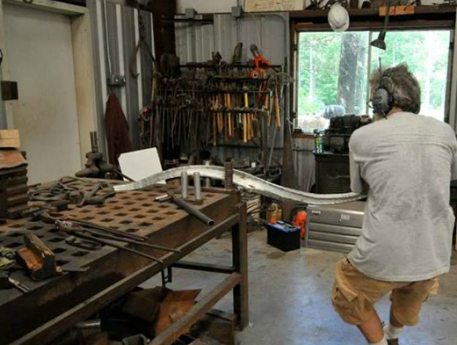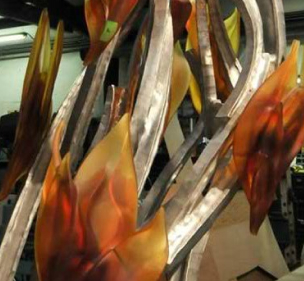 How the Legacy Flame Came to Be
The Jewish Federation of Cincinnati already knew that they wanted to tell people's stories in a way that would live on to inspire future generations, so they put together a plan to produce multimedia content. But said Jim Friedman, Director of Planned Giving and Endowment, the Federation wanted to complement it with some kind of fine art. Since The Light, by Albert Paley, was prominently displayed at the front of the entrance of the Mayerson JCC, the Federation hoped to carry the same sculpture art motif into the building.

Around the same time, glass sculpture artist Brian Russell had a solo exhibition at the Marta Hewett Gallery in the Pendleton Art Center. Frances Schoss, widow of Milton Schloss and mother of Jim Friedman, happened to see a picture of one of his pieces in a local magazine. It was a small glass piece that looked like one individual flame, and it was just the artistic inspiration they were looking for. Marta Hewett connected Frances and Jim with Brian Russell, who came to the JCC to begin research for the commissioned art that would become The Legacy Flame. "The sculpture has turned out to be a magnificent tribute," said Frances Schloss when the exhibit was introduced to the public in 2014.
More about Brian Russell
Brian Russell is a sculptor working from his studio in Tennessee. Working as an independent professional artist for the last 30 years, Brian Russell's distinctive work can be seen throughout the area. He exhibits glass and metal sculpture widely in galleries. In 1994 Russell moved his studio to 15 acres in the countryside northeast of Memphis. Satisfied with his mastery of forging technique, Russell began to leave the more linear forms driven by blacksmithing and to expand his vocabulary to include more color and volumetric shapes. In 1998 Russell decided to reintroduce glass into his work in a more sculptural way.
Using a scientific approach, and with much experimentation and patience, Russell was able to realize his vision of combining glass and metals to create new expressions in his work. On a visit to New Zealand in 1999 Russell was exposed to a lost wax glass casting technique that produced exciting results. Two more years of hard work and research resulted in the current state of Russell's art: a fusion of forged metals and cast glass unique to his sculpture. The transparency and optical nature of the vivid colored cast glass have an inherent emotional effect that enables the artist to speak quietly, yet powerfully.