The Exhibit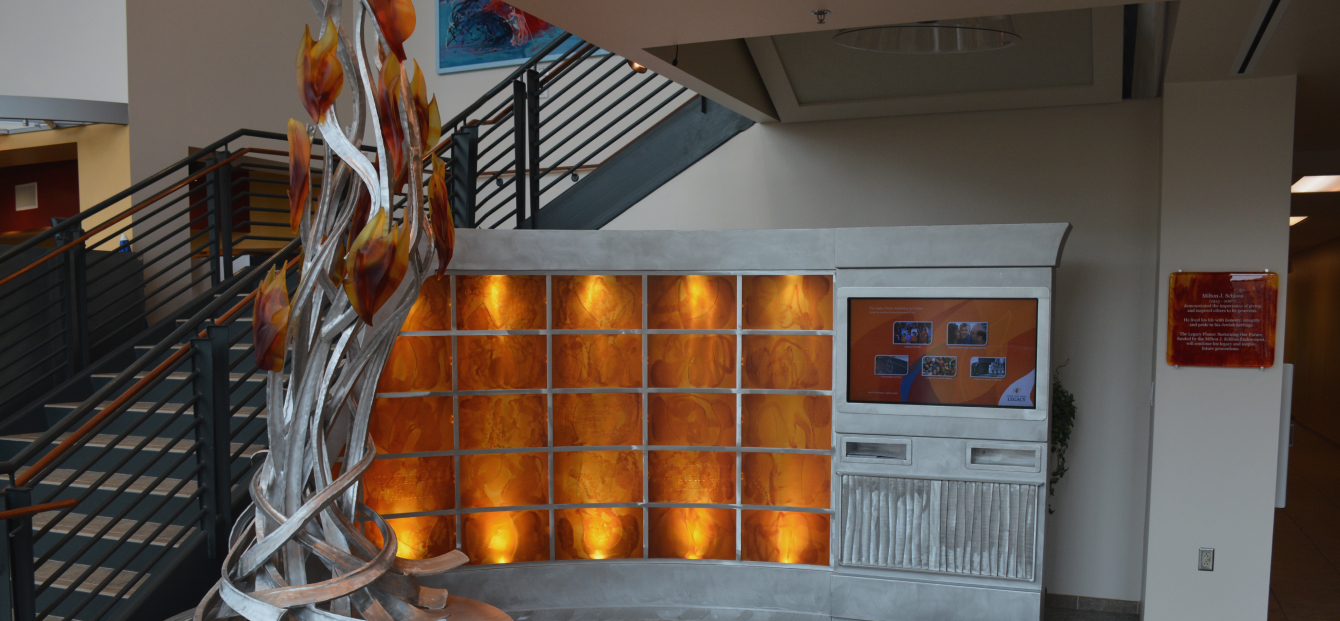 "As my ancestors planted before me, so shall I plant for future generations."
— Talmud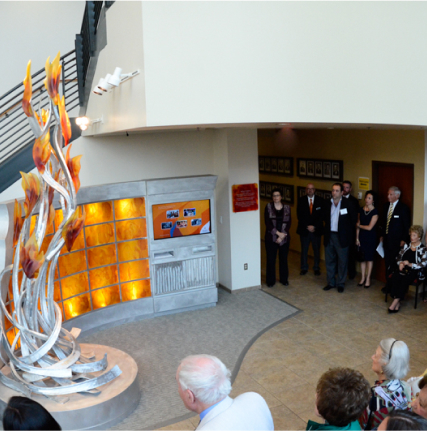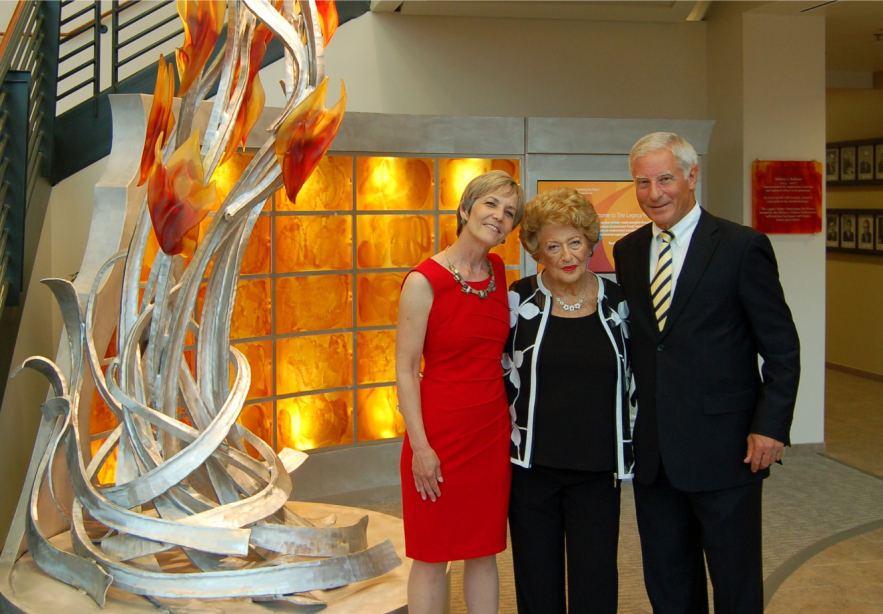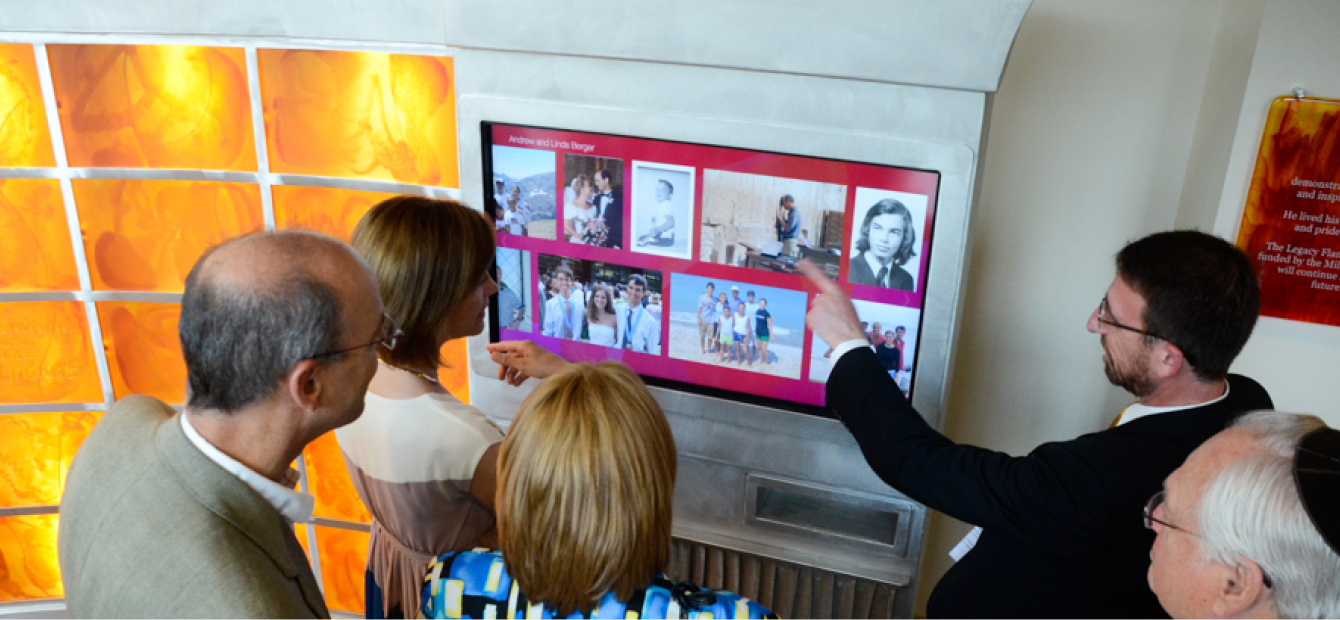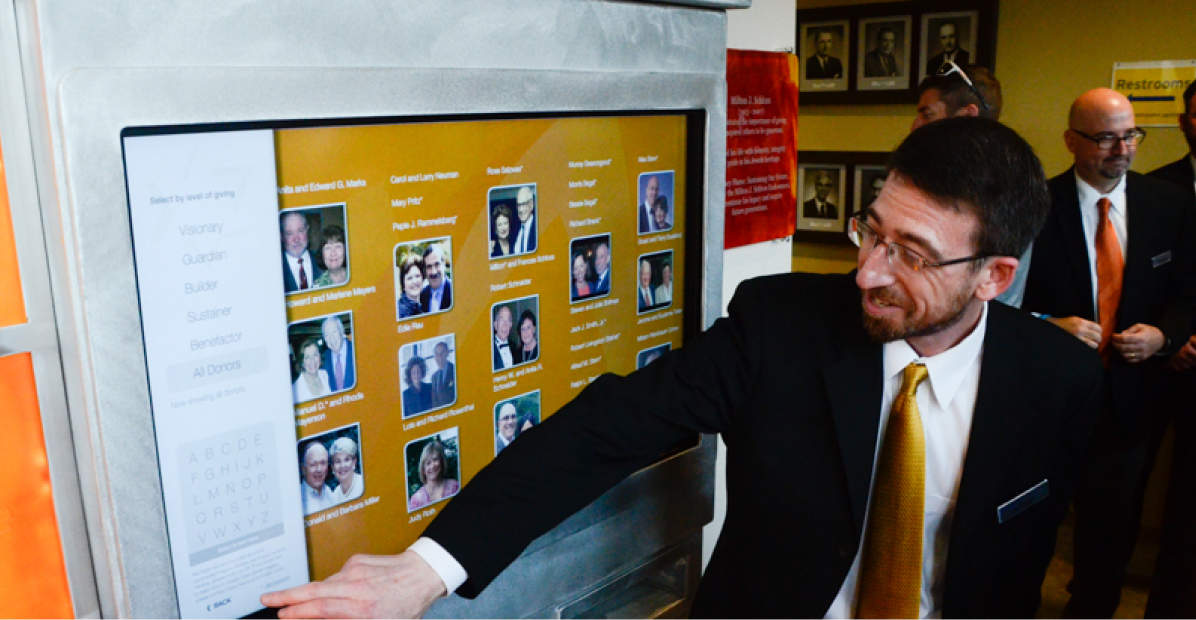 Cincinnati is unique among Jewish communities in the US in its creation of a beautiful, dramatic sculpture and integrated digital tribute to thank legacy donors across all giving levels, across all Greater Cincinnati, and across all local Jewish organizations. It is truly an impressively collaborative effort.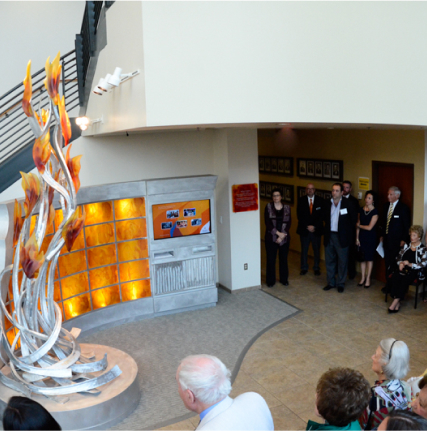 THIS BEAUTIFUL SCULPTURE IS THE GRATITUDE OF THE JEWISH COMMUNITY OF CINCINNATI MADE VISIBLE.
The Jewish Federation of Cincinnati dedicated The Legacy Flame: Sustaining Our Future on June 1, 2014 at the Mayerson JCC. The sculpture is a living, public tribute to name and thank donors who have made a legacy gift commitment to a local Jewish agency, organization or congregation, and to inspire future generations to follow in their footsteps.

This dramatic sculpture of metal and glass was crafted by artist Brian Russell and made possible by the generosity of the Milton Schloss Endowment Fund. On its right, an interactive touch screen allows you to pull up the name of everyone in the entire community who has made a legacy gift commitment to any of the Jewish organizations in the community, regardless of giving level. For higher giving levels, a personal statement and a video of the donors discussing their reasons for giving is provided.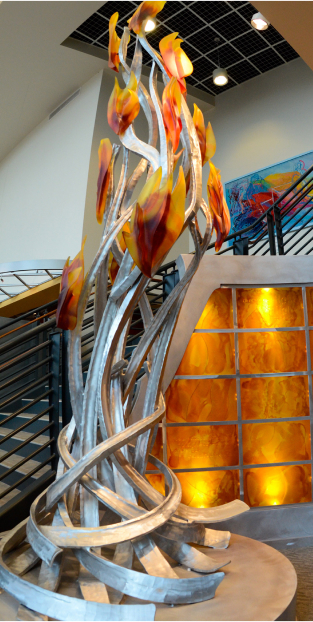 "The sculpture has turned out to be a magnificent tribute, but the sculpture is not just a piece of art." — Frances Schloss
The Legacy Flame was inspired by the ner tamid, the Jewish eternal flame above the ark in a congregation, symbolizing God's eternal presence. Prominently displayed in the Mayerson JCC, the installation combines a beautiful sculpture of metal and glass with an interactive touchscreen that allows visitors to browse multimedia stories about the donors, the impact of their endowments, and the history of Jewish Cincinnati.
Jim Friedman, Director of Gift Planning and Endowments at the Federation said that the inspiration for The Legacy Flame was born out of the Federation's desire to honor legacy donors in a more dynamic way. "We were trying to find an appropriate way to recognize people who had the vision and desire to create resources for the community that would long outlive them," said Friedman. "That they would be properly recognized and, more importantly, that years from now it will be possible for those viewing The Legacy Flame to know who these people were, more than just a name." When Friedman spoke at the event, the audience rose to their feet to acknowledge the magnitude of his vision now fully alive.