1947
American Jewish Archives and Jacob Rader Marcus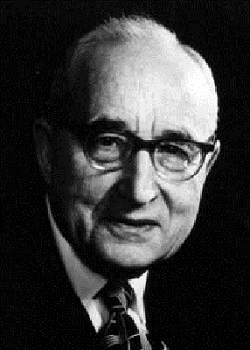 American Jewish Archives (AJA) was founded by Jacob Rader Marcus (1896-1995) in 1947, as a means of preserving the records and artifacts of the American Jewish community. Marcus is considered the first trained Jewish historian in the United States to fully devote himself to the scholarly study of American Jews.
A renowned rabbi and educator, he was beloved by his students at Hebrew Union College (HUC), who elected him President of the Central Conference of American Rabbis in 1949. His devotion to the study, preservation and propagation of the history of American Jews culminated in the creation of the AJA, the only institution of its kind west of the Alleghenies.
The archives, which houses documentation in excess of ten million pages, reside in the Jacob Rader Marcus Center on the Cincinnati campus of HUC-JIR. It is the largest free-standing research center solely devoted to and housing records related to the study of the American Jewish experience. The records housed in the archives are of a political, economic, social, cultural, and religious nature.